Institut Disciples Esc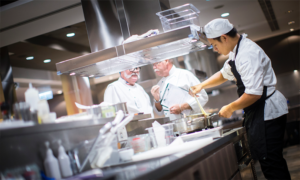 offier has partnered with one of the most reputable and well-established culinary centers in Hong Kong, the Towngas Cooking Centre.
The two institutions share a common vision of developing among aspiring chefs the passion and competence to meet the "real world" opportunities and challenges of the fine dining industry. To achieve this vision, we work together in bringing one of the most cutting-edge and rigorous programs for culinary professionals.
Combining the state-of-the-art facilities with the hands-on, technique-based training, allows to set new standards for culinary education in Hong Kong.
Enquiries and Applications
9A, Lee Theatre Plaza, 99 Percival Street, Causeway Bay, Hong Kong